OK, so we are NOT entertaining anyone this year for the holidays. Poo. Woe is me 😦
But, for the Dare to Entertain DIY Challenge this week, I decided to whip out all the dishes and set the table anyway, just for fun! I even decided to do a 'casual' setting and a setting with my 'formal' china, since I hadn't had it out since we moved earlier this year. Also, I've never really posted pictures of the inside of the house since we've moved in, so you can see that too. Here goes (please click on pictures to enlarge):
1. Meet our tiny dining room. It's a little bigger than it looks…but not by much. Our front door currently opens into the dining room, so it usually serves more as an entry way than a dining room and the table is usually pushed up against the windows. SAD. However, we're planning to move the door to the center of the house (see this post for house pic and future plan, idea #2), where it will open into the living room instead of the dining room. I can't wait! Until then…ho hum, but hey, it looks great when the table is out in the center! Also note the temporary curtain tie-backs I made with some wire-edged ribbon and berries. I think it looks great for $3 🙂
2. Place setting. This is our casual everyday dishes, the Noritake Colorwave collection. I ❤ my wire pumpkin (gift a few years ago) and my candlesticks (bargain buy a few years ago at a Hobby Lobby…I think I got them both for under $20) I got the fabric runner this year on sale for $7.50 and it's been up since October (combo Halloween/Thanksgiving autumn decor!)
So, my 'formal' china is the Lenox British Colonial set in the Bamboo and Tradewinds patterns (they're mix and match). My husband loves ships and when I was planning my wedding I saw this china on a wall from across a department store and pointed it out to my Mom and said that will probably be our china, and it is! We love everything coastal and it suits our style so perfectly! When not in use it lives in a pretty cabinet:
which is 2/3 of this cabinet (the middle and right pieces, Crate and Barrel):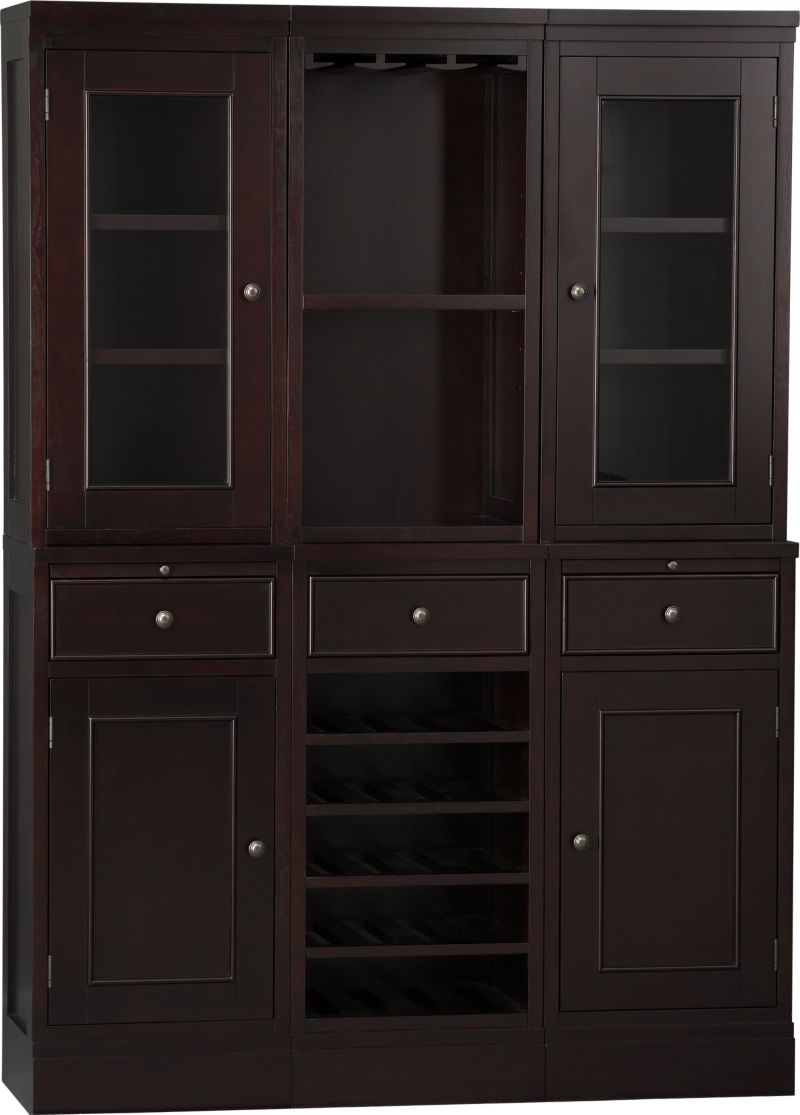 Anyway, here is the table set with the china:
3. I set out the crystal beverage glasses (Lenox Firelight Gold) and our china's coffee mugs, because in my house, you must have dessert and coffee!!!
4. I also made a little centerpiece using a glass vase I had (free! came with birthday flowers from my in-laws), left over ribbon from the curtains, and I made a quick monogram design in autumn colors that I printed out. A few dabs of hot glue….I filled it with scented pinecones from the craft store and Voila! Insta-centerpiece! (pine cones cost $2.50 and I have LOTS left over for Christmas decorating!)
So there is my bargain budget use what you have autumn placesettings. I can't wait until the door gets moved and we can use the dining room as a dining room all the time cuz I think it looks fab! Even DH was impressed!
In the meantime, I do have some champagne I could chill (and you haven't seen my Christmas Mikasa Champagne flutes, GORGEUS!) Who wants to come visit so I have someone to entertain?!